THE BEGINNING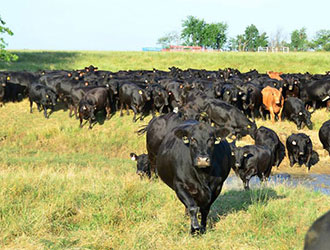 The founder of Magness Land and Cattle, the late Bob Magness, traded some of his commercial cows back in the 50's for the stake he needed to begin Tele-Communications Inc. (TCI) which would ultimately become one of the world's largest cable television companies. Through the years, no matter how many businesses Bob was involved with, he still retained some commercial cattle. Bob taught his sons Gary and Kim that cattle were the bedrock of the family's business success and Gary Magness took his advice to heart. Gary pursued an agri-business degree and took over the family cattle operation.

In 1981 Magness Land and Cattle decided to purchase some Limousin bulls for its Colorado operation as well as for the storied Silver Spur Ranch in Wyoming. Gary liked the result of breeding Limousin bulls with Angus and Hereford cows so much that he started replacing more of the bull battery with Limousin bulls. Realizing that upwards of 120 commercial bulls were needed in the operation, Gary ultimately decided his money would be better spent by starting his own purebred operation in order to raise the bulls that were needed.
With that in mind, Magness Land and Cattle purchased half of the renowned McKown Limousin herd in Norman, Oklahoma in 1985, then the other half in 1987. At the time, the McKown herd was one of the leading full blood Limousin programs in the United States. Magness Land and Cattle built upon the McKown base and began crafting its own genetics for its commercial use. Gary soon realized that other purebred breeders were seeking these same genetics. That was the beginning of the parallel Magness production and marketing program, which serves both commercial and purebred cattle producers today with the same leading genetics.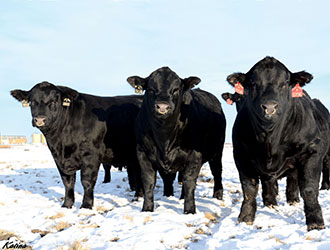 OUR NEXT STEP
This basic approach enables Magness Land and Cattle to market approximately 300 commercial bulls each year in addition to purebred sales. Magness Land Cattle recognizes that in addition to excellent MAGS genetics, commercial producers need even more information and assistance today than ever before. Magness Land and Cattle delivers this information including feeding and carcass history, help with managing cattle health and nutrition, and providing marketing options in the same affordable package they have been delivering since inception.
EVERY SITUATION IS UNIQUE
The most important thing the Magness crew does is listen to its customers. The Magness crew visits with each customer about what they wish to accomplish and more specifically, about what they would like MAGS genetics to help them accomplish based upon cows in the customer's existing herd. The resources and recommendations that Magness Land and Cattle's management and marketing teams offer along with trusted MAGS genetics can steer customers to the most efficient path for achieving their goals.

Magness Land and Cattle understands more than anything that the cattle business is really all about people. The Magness crew believes its customers are its partners in the seedstock business. And Magness firmly believes the best partnerships result from communications that go both ways. Because of the close relationship that Magness Land and Cattle develops with its customers, the Magness crew is able to offer detailed solutions and options on how MAGS genetics and the additional services Magness provides can support and enhance a customer's operation.